Touring Brooklyn's Gotham Greens atop Whole Foods Market
Touring Gotham Greens atop Whole Foods Market in Brooklyn
BROOKLYN — It was a perfect summer evening on a Brooklyn rooftop, with colorful food spread out on a picnic table and dozens of friendly faces talking about what they love: fresh vegetables and fruit.
The evening was hosted by Gotham Greens, an urban hydroponic greenhouse grower, which started in Brooklyn but has since expanded to at least four locations in New York City, plus a couple in Chicago, and more coming to Baltimore and Providence, R.I.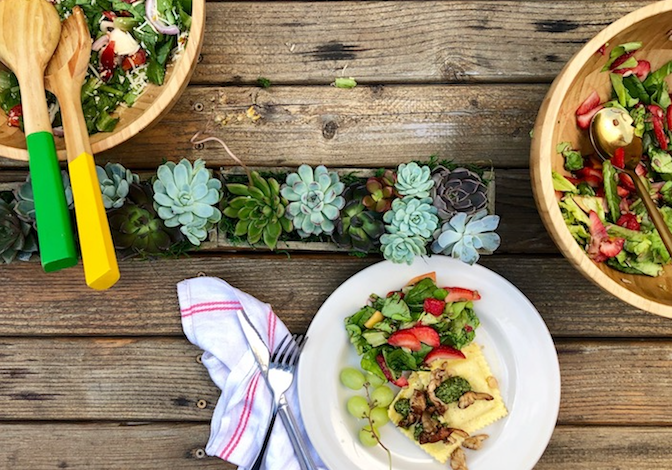 A few other locally based farm and food companies held cooking demonstrations and mini-tours too, such as Smallhold mushrooms, which has a blue-lit, glassed mini-farm of mushrooms behind a deli counter inside Whole Foods.
Adam Demartino, founder of Smallhold, described how Whole Foods shoppers can sometimes select the mushrooms they want from the farm and have it picked fresh for their carts. He took out and showed a substrate block of pink oyster mushrooms for the tour guests to see and smell.
How long does it take to grow?
"It depends on the species. Each of those levels is a different environment," Demartino said. "We're able to cycle the blocks in, week by week, so we're able to meet weekly demand."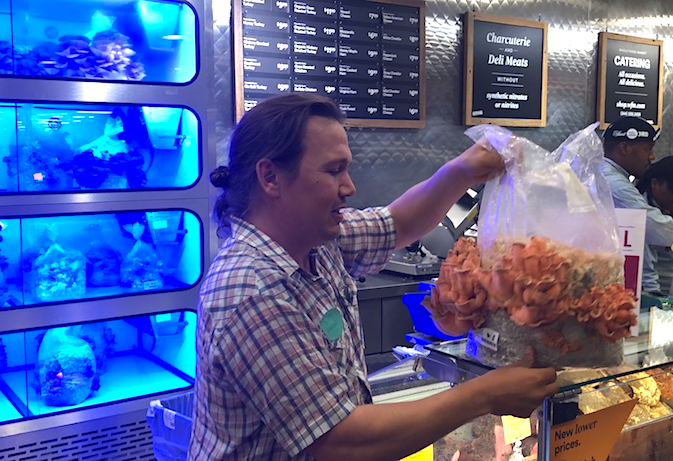 Food media professionals as well as others in the food industry sphere, such as Melissa Neubart, a chef and director of development for New York City's Wellness in the Schools program, mingled on the Whole Foods rooftop just outside the Gotham Greens greenhouse.
"They've donated their seedlings to our schools around the city," Neubart said about Gotham Greens. "It really inspires our kids to make healthy choices."
Viraj Puri, cofounder and CEO of Gotham Greens, gave a tour of the basil, arugula and salad greens greenhouse, explaining the company's mission, how the greenhouse technology works, and why it benefits retailers, consumers and urban communities as a whole.
"This is one of our smallest greenhouses, but it's the largest in heart and spirit," Puri told the tour guests before they entered the farm. Besides selling its produce, this location is used often for tours and teaching opportunities.
After the tour, Puri talked with Amy Sowder, northeast editor of The Packer. Check out the video.
Related news: