Produce Artist Award Series winter contest to feature citrus, mushrooms and more
Download this flyer with the winter submission guidelines and encourage your team to participate!
The winter season of the Produce Artist Award Series is underway and accepting submissions through March 23.
Now in its third turn, the Produce Artist Award Series is designed to recognize great merchandising and the people who make it happen.
Throughout each season, PMG shares submitted photos on its LinkedIn, Facebook, Twitter and Instagram accounts to shout out the work being done by produce merchandisers and produce managers, and each season ends with a results webinar that features tons of beautiful display photos and expert commentary on what makes them stand out.
In the webinar, PMG will award both overall prizes (top merchandiser/specialist entry and top produce manager entry) and will recognize the best displays of several seasonal commodities. For winter, those items are citrus, Chilean produce, mushrooms, potatoes and broccoli or cauliflower.
To enter, produce professionals simply send 6-10 photos of their favorite seasonal displays to PMG editor Ashley Nickle at anickle@thepacker.com by March 23.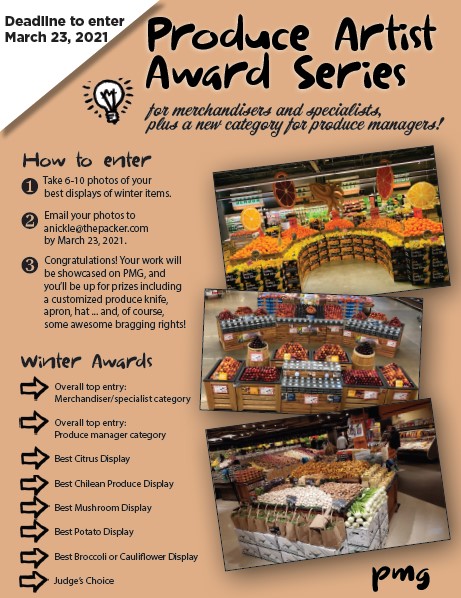 After a strong debut with the Summer 2020 season, the Produce Artist Award Series grew significantly in Fall 2020. Check out some of the fantastic work that was submitted by viewing our results webinar, which also features expert perspective from longtime produce retail veterans Mike O'Brien, Joe Watson and Armand Lobato.
If you're passionate about the presentation of produce, the Produce Artist Award Series is for you. Thanks for everything you do, and we hope you join the fun with us for this winter season!