Organic share of fresh produce dollar sales reaches 12% in Q3
(Charts courtesy Organic Produce Network and Category Partners, featuring Nielsen data)
---
Organic fresh produce sales exceeded $2.2 billion for the third quarter this year, with volume sales up 15% from the same period in 2019 and dollar sales up 16%.
"In the third quarter, organics drove twice the dollar share compared to volume share — 12% of total produce dollars and 6% of produce volume — underscoring why the growth of organics is so powerful and important to retailers," Matt Seeley, CEO of Monterey, Calif.-based Organic Produce Network, said in a news release. "As consumers continue to shift from conventional to organic produce, substitution is driving incremental dollars."
OPN and Category Partners recently released the Q3 2020 Organic Produce Performance Report, which details top organic items in dollar sales and volume sales and shows organic fresh produce sales and growth by region.
Bananas continue to lead in volume sales, representing 18% of all organic produce volume, while packaged salads reign supreme in dollar sales, accounting for 17% of all organic produce dollars, according to the release.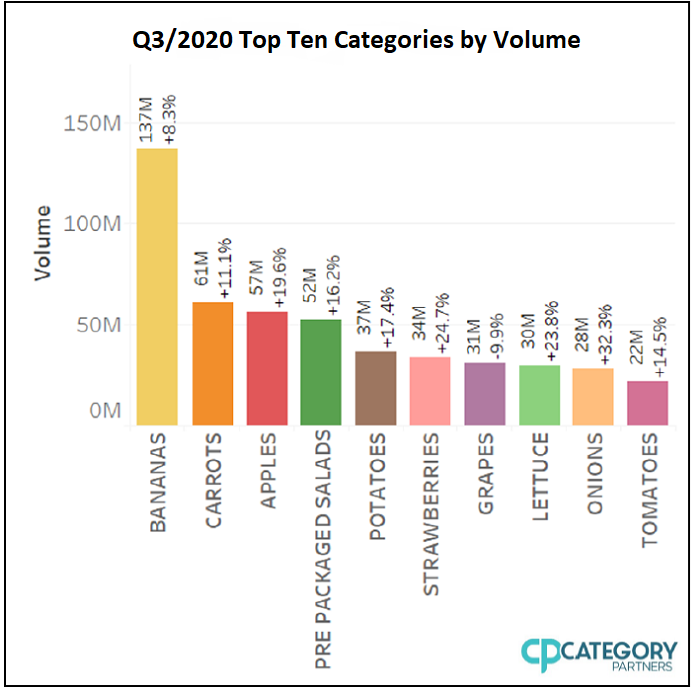 Berries and apples also played significant roles for the organic category in the third quarter, with strawberries bringing in $136 million (up 27.1%), apples bringing in $128 million (up 19.8%) and blueberries bringing in $118 million (up 17.0%), per the report.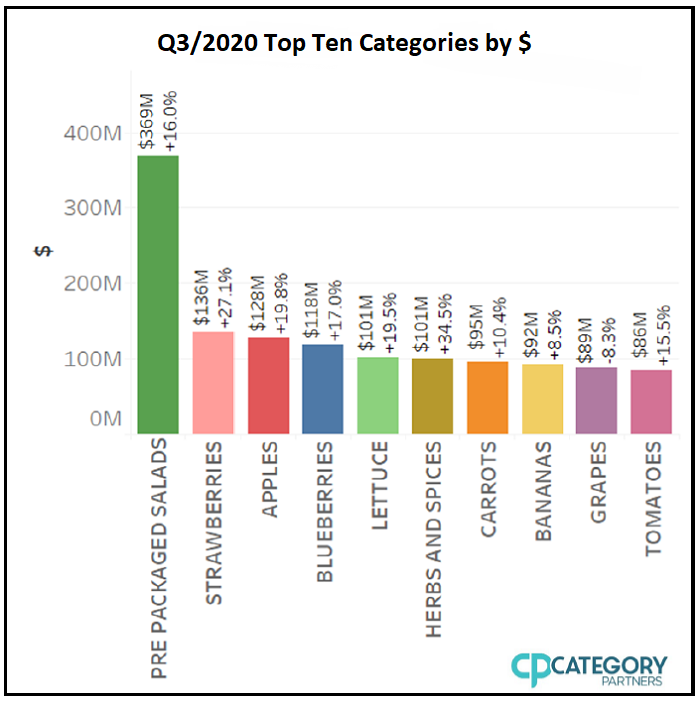 Organic sales remain strongest in the West, where dollar sales for the third quarter were up 20% and volume sales were up 17% compared to the same time in 2019.
In addition to produce-specific sales numbers, OPN's report shows how different regions compare in all commodity volume (ACV), a metric that helps provide context on how much organic product retailers, or groups of retailers, are selling relative to each other.
"The Midwest and South continue to be the strongest opportunity regions for organic produce growth," Steve Lutz, senior vice president of insights and innovation for Category Partners, said in the release. "Organic ACV dollars in those two regions lag far behind the West and Northeast.
"Even though organic growth is strong compared to conventional produce, growth rates in the Midwest are below every other region, with ACV volume and dollar performance in the Midwest less than one-half the rate of supermarkets in the West," Lutz said.