Opportunities for produce amid COVID-19
Think back to March … fresh produce demand was stable with year-over-year dollar growth hovering at 1-2 percent, and the consensus was that growth would remain about the same, with a stable supply going into spring. That was a mere 108 days ago as of July 1.
What has happened since March is filled with stories that will be shared for generations to come in our industry. They'll start with the phrase: "Do you remember when . . . ?" As I reflect on all that has transpired in such a short period of time, and what we have learned from this experience, I can't help but conclude there are long-lasting implications and possibilities that we must explore.
For nearly three decades, there has been great effort by the fresh produce industry around building consumption of fruits and vegetables. We've endeavored with numerous approaches to engage consumers, and while many of those efforts have been marginally successful, others were not. But maybe what was missing in those previous attempts has become clear during the COVID-19 crisis.
Looking at the data since March suggests that consumers knew all along that eating more fruits and vegetables was good for them. For the produce industry, however, what was missing was understanding how to capture consumers' ideas around fresh produce and the importance it has in their lives. I suggest that COVID-19 did much of the heavy lifting for our industry in this area, and here's why.
Before COVID-19, the produce industry had a strong grasp on consumer habits and trends, which are well documented. Since then we have been on a fast-moving ride of ups and virtually no downs, spins and turns whipping us from side to side. But now some 14 weeks into the pandemic in the U.S., new trends are emerging. Let's look at the opportunities for long-term gains that these trends present.
Top categories in dollar gains
Category              As of 3/1/20       As of 6/21/20
Oranges               -3.1%                     +63.2%
Berries                  +6.2%                    +18.3
Bananas               +2.3%                    +4.6%
Apples                  -3.9%                     +3.3%
Pineapple            -7.9%                     +26.1%
Lettuce                 +3.3%                    +15.3%
Packaged Salad +3.9%                    +15.8%
Tomatoes            +10.0%                 +29.5%
Potatoes              +0.07%                 +29.4%
Peppers               -2.0%                     +30.9%
Onions                  -0.07%                  +19.6%
Mushrooms       +3.1%                    +32.0% 
Produce Marketing Association (PMA) is releasing weekly retail produce sales data at pma.com. Since the week ending March 15, retail fresh produce has added $2.67 billion in additional dollars, which represents an average of $178.2 million per week. A trend is a trend, and the 12 categories highlighted have been key in the realized dollar gains during this period for total fresh produce.
Fresh produce is essential
If there was ever a time to connect with consumers more broadly to maintain the momentum for demand, the time is now. The data tells us consumers purchased items they are most familiar with and know  – or believe – are best for their health and building immunity. But some categories have not received as much attention from consumers, and this is where the opportunity exists. So, what are some ways to help consumers get outside of their shopping list when selecting fruits and vegetables for their home and families?
Meal planning
A common theme that has developed is the fatigue consumers are experiencing for at-home meals due to a limited shopping list for fresh produce or lack of understanding the seasonality and attributes of fresh produce. Connecting the dots for consumers provides an excellent opportunity to increase demand and help make produce-centric at-home meals more appealing and exciting.
In my own home over the past three months, we have used online resources for recipe ideas. The hunt for new and varied recipes and preparing meals that incorporate fresh produce has turned into a weekly event for us. I'm in charge of mise en place, and my wife is the chef. We call it meals from #jeanskitchen, and we post images of what we cook together. It turns preparing the meal into a fun component of a bigger experience.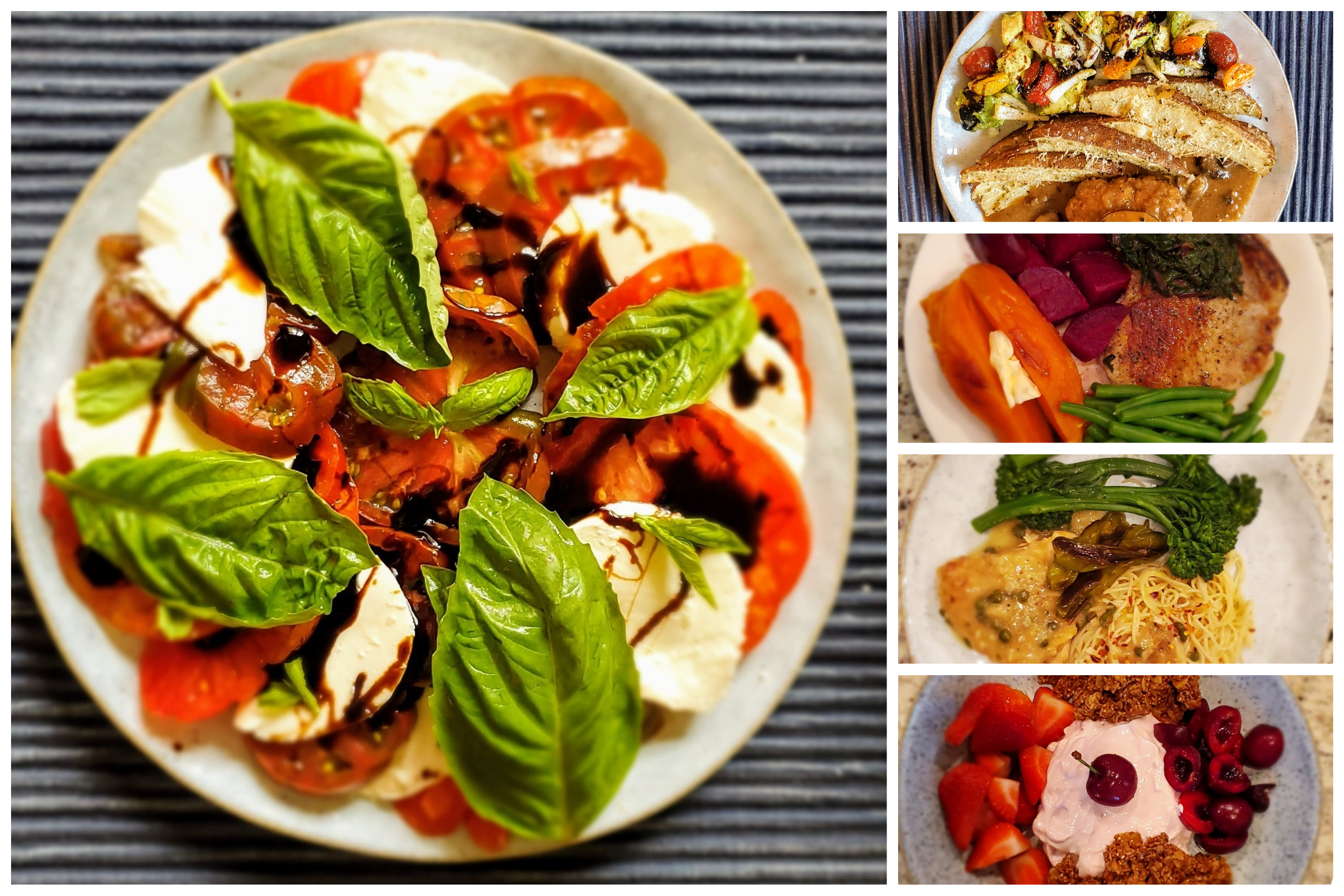 Joe and his wife have enjoyed a variety of produce-rich quarantine meals, he writes.
What has this taught me about our business? That simply giving consumers a nudge to think differently about creating a meal, as well as the items they choose to add to their basket, will have lasting impacts and the potential to increase the amount and variety of produce on consumers' shopping lists over time.
Fresh fruits and vegetables are an essential part of a healthy lifestyle – and perhaps the pandemic has proven that adding more fresh produce in our daily lives and meals is doable and can even be quite fun!
Be sure to find PMA's grocery/retail resources here, the latest consumer research info here, and the latest on Joy of Fresh here.
Be well and be healthy to all!
---
This column is part of a series by Joe Watson, who spent 30-plus years as the director of produce for Rouses Markets and was named Produce Retailer of the Year in 2014. Joe now serves as a vice president of member engagement for PMA.
---