NEPC's 20th expo draws regional, national and international crowd
BOSTON — Produce professionals from near and far delved into the relationship business at the New England Produce Council's Produce, Floral and Foodservice Expo, celebrating its 20th anniversary.
"It's more than a regional show for us suppliers," said LeighAnne Thomsen, account manager for Calavo, Santa Paula, Calif. "I sell only avocados, and New England is a high-consumption market for us, and we really value our customers here."
An evening networking party at the Prudential Tower's Top of the Hub on Sept. 18, the first day of the two-day event, followed an education session led by Steve Lutz, vice president of insights and innovation at Category Partners, Idaho Falls, Idaho.
The next morning began with a keynote breakfast led by Rich Dachman, recently retired vice president of produce for Sysco Corp. and CEO of Houston-based Brighter Bites, a nonprofit organization feeding underprivileged elementary school children fresh produce.
During the trade show, Theresa Nolan did a drawing at her booth on behalf of the Nolan Network, which is restarting its N4Ten Challenge in February. The challenge, sponsored by the NEPC and Produce Buzz, encourages people to eat 10 servings of fruits and vegetables daily and this time, raises money for The Greater Boston Food Bank.  
Several hours into the trade show, NEPC executive director Laura Sullivan and NEPC board president Anthony Sattler of C&S Wholesale Grocers Inc., Hatfield, Mass., assessed the show's success. 
All 160 expo booth spaces sold out, Sattler said, and the 21 floral booths were twice as many as they had in 2018. Plus, there was a standing-room-only floral luncheon with Produce Marketing Association's floral expert, Becky Roberts, as keynote speaker.
"There's a lot of innovation within specific categories," Sattler said.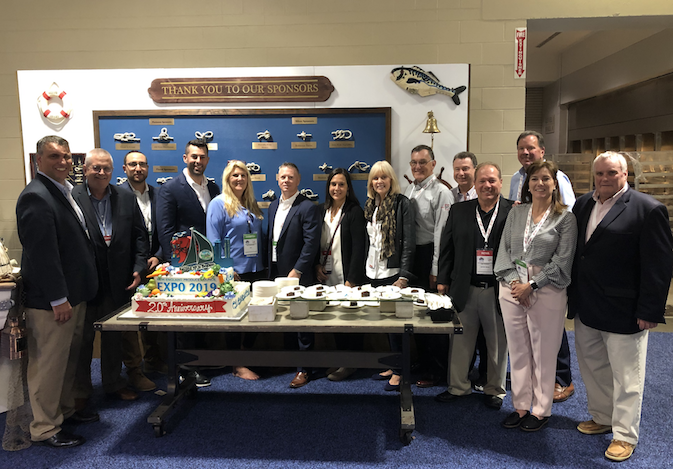 Along one aisle, harvest manager Thor Arnell explained the aquaponics system that creates a closed circuit of production for Lisbon, Maine-based Springworks Farms, a USDA-certified organic lettuce grower and Blue Nile fish farm. The fish waste fertilizes the lettuce, and the plants clean the water, which is cycled back into the fish tanks.
"It brings to people who'd typically buy lettuce that comes from California a locality they couldn't get otherwise year round," Arnell said.
Melon 1's director of new business development, Rachel Syngo, talked to people who paused to see the company's carved watermelons, which drew attention to the Punta Gorda, Fla.-based, grower-packer-shipper.
"We do a ton of business in New England. That's why we do this show. It's good to put a face to a name, shake a hand," Syngo said.
Rodrigo Bedoya, CEO and cofounder of Ipoki Produce, came from Peru for the show with Ipoki director and cofounder Janos Kadar. They sell organic fresh Peruvian ginger through the importing business of Ipoki based in Surfside, Fla., and their Peruvian export company La Grama.
"We direct distribute in New England and Philadelphia, and have a wholesale distributor in Los Angeles," Bedoya said.
Anyone who has business in the New England region can benefit from the NEPC expo, Sullivan said.
"You will see every buyer in New England in one day and get your product and some facetime with the decision makers for the New England market," Sullivan said.
Sullivan also said she was grateful for the Produce Marketing Association's other partnership, the Career Pathways mentorship program, which had college students roaming the expo with their ambassadors to introduce them to important people in the business.
Eric Frechette, president of Taste of the North, in Levis, Quebec, said he came to the expo because "we sell to the U.S." 
Frechette's sales team represents several growers of hydroponic, field-grown and organic tomatoes, berries, cucumbers, shallots, onions and garlic grown across Quebec. 
Attendees enjoy the relaxed vibe of NEPC's annual event, where they have time to connect on a deeper level with others, thereby strengthening relationships.
"Come from your specific region, whether it's the Southeast, Midwest, California. See what we're doing up here," Sattler said.
Related news: