The baby butternut bake-off
A couple of months ago I wrote about my adventures in growing two of Row 7 Seeds' vegetables, 898 baby butternut-style squash and Robin's Koginut mini pumpkins. I also said I would report back after fixing them for a first-day-of-fall feast. 
That turned out to be a little ... ambitious, schedule-wise, and, between making sure the squash had cured long enough and finding time to actually think about how I wanted to cook them, it was Halloween before I finally managed to taste the fruits of my labor in the garden.
There are numerous ways of preparing butternut squash, of course, but since 898 was bred, at least in part, to be a main course offering, I decided that's how I would cook mine, too. I halved each little squash (which was so much easier than trying to cut a full-size butternut in half!) and tried to scoop out the seeds before baking. That was harder than I had anticipated, so I just drizzled all the halves with olive oil and sprinkled them with salt and pepper; de-seeding could wait until after they had baked.
On a recent trip to Trader Joe's I had picked up a Row 7 Honeynut squash, a precursor to the 898, so I halved that and threw it on the baking sheet as well, curious how a commercially grown product would compare with mine in taste.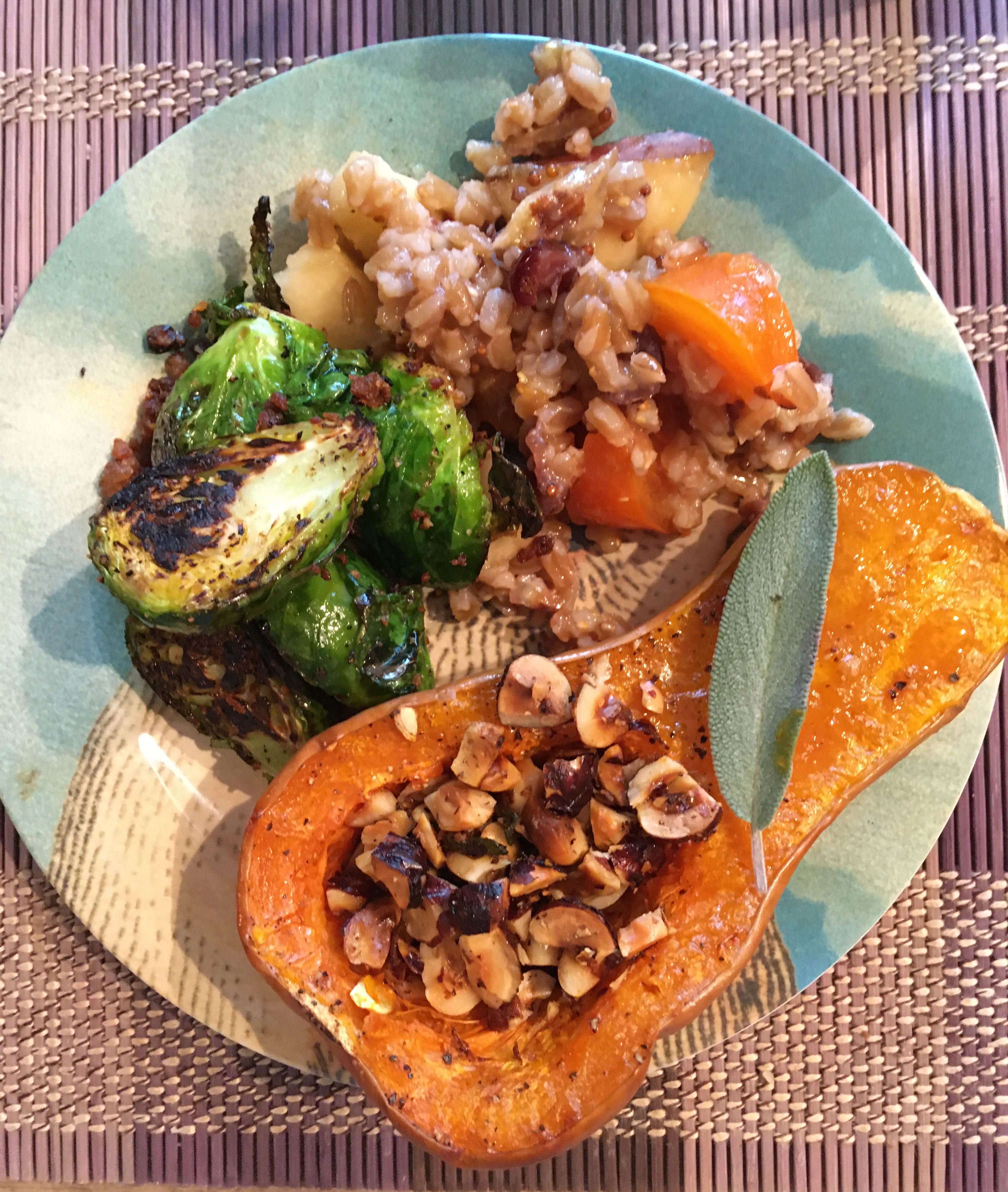 While the squash were roasting I chopped up some hazelnuts for a filling and browned them in butter on the stove along with fresh sage from our garden. We're not vegetarians, but since produce was going to be the star of the meal, I wanted to keep things mostly meatless. 
To add some protein, though, I cooked up a batch of farro, using apple cider in the cooking liquid for extra flavor, and then stirred in dried cranberries, chopped persimmon, red pear and fresh rosemary, along with a little olive oil. 
I don't often cook with persimmon, even though I like it. I'm still a bit unsure about which varieties need to soften before eating and which don't, and, when I'm trying to nip in and out of the store quickly, I usually don't have time to look up the answer on producemarketguide.com. 
Fortunately, the store I went to happened to have one perfectly ripe fuyu on the shelf, and it added a great autumnal touch to the farro.
I also cooked up a bag of Brussels sprouts left over from when Ashley Nickle and I sampled Ocean Mist Farms' Season and Steam line, because who doesn't like Brussels sprouts (especially with bacon)?
The squash were much easier to de-seed after they were cooked, but I noticed the flesh of the homegrown squash looked more watery than that of the Honeynut. Maybe mine could've done with a week or two more on the vine. Oh well. I stuffed the cavaties with the hazelnut mixture, drizzled some maple syrup on top, and popped them back into the oven for a couple of minutes more.
Then finally it was time to feast. The squash flesh was tender and slightly sweet, with a classic butternut flavor, and the thin skin had crisped nicely in the oven so we could eat that, too. I did conclude that my 898s were a bit underripe when I tried the baked Honeynut later on, but that's something I'll remedy with next year's crop.
All in all, I think I can count this year's experiment a gardening — and culinary — success.
Amelia Freidline is The Packer's copy and design editor. E-mail her at afreidline@farmjournal.com.